Subject Selection
Choosing classes at the correct campus
Finding your home campus
In your Student Portal, go to your Student Profile to view the campus where your course is based.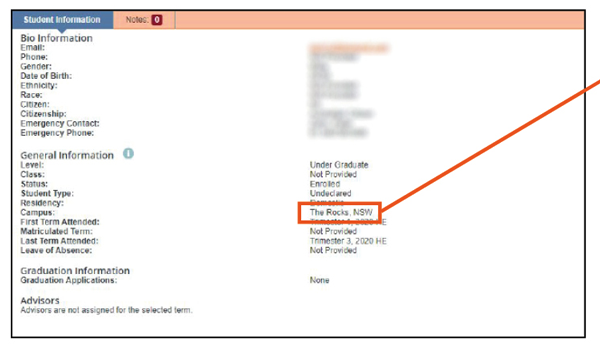 When you are in the Register for Classes view, each class option shows where the class will be held.This will show options for all campuses, including those from other states.
Check your course page for specific information about each class type:

Register for classes
Steps
1. Go the Student Portal - you will need to log in with your student email address and password.
2. From the Landing Page, click Subject Selection.
3. Click Register for Classes. Select the Study Period (e.g. Trimester 1 HE 2021) and your course, and then continue.
4. Select the next subject/s in the list as these align with your course structure. You must select one subject a time.
All subjects are listed in the left column. Any marked with a green dot are those you have completed, have credit for, or are currently enrolled in. Meeting time = your class time.
All class options for the subject will appear in the top right column.
This will show options for all campuses, including those from other states. Please make sure you select the campus relevant to your CAMPUS only.
Students from our Online Campus must select online classes only.
You can view more information (description, prerequisites, lecturer etc) by clicking on the subject name.
5. Add the class you want.
6. Click SUBMIT to finalise your class registration. You can do this after each subject if you prefer.
What happens after I select subjects and register for classes?
After you successfully register in your classes, you should expect to receive your invoice via your Office 365 student email. Invoices are sent to all students, upfront paying or FEE-HELP. You will see the fee amount and due date on the invoice.
Tips for viewing the Subject Selection page
There are three panels:
Subject area (top panel)
This shows the subjects for your course, and the selections you can make for your classes.
Schedule (bottom left panel)
This show the calendar view of the subject days and times you are enrolled or registered in.
Summary (bottom right panel)
A list of the subjects and status of your enrolment

Pending - in grey
Registered - in green
1. Subject area panel
Left column: This shows the list of subjects for your course organised by study periods. Any subjects you have completed, or registered in for the current study period, will show as green. You can check a subject to view more information.
Right column: Shows detail about a subject you have checked. It will list all class options available for you to choose from. It will show if the class is on campus (with day and time) or online. this is where you click to select your preferred class.
2. Schedule panel
The schedule panel will show any face-to-face classes in a week view.
Online classes may not show here if they do not have a scheduled day or time in the timetable. Generally you Learning Facilitator will advise you of online Collaborate sessions in your first week of classes.
3. Summary panel
This shows the list of subjects and the different enrolment statuses.
Title - subject name
Details - subject code
CRN - class reference number
Schedule Type - class type e.g. online, workshop, practical
Status - enrolment status

Pending (still need to submit) - in grey
Registered - in green

Action - options for the subject e.g drop
Submit button - to finalise pending enrolment
Resize/hide sections
You can resize each panel/section by clicking on the dot on the border of each section and dragging up or down.
You can hide/display a section by clicking on the down or up arrows.
Withdraw from (drop) a class or change a class time
If you registered for classes via the Student Portal, you can update your classes yourself.
Steps
Navigate to the Student Landing Page.
Click Subject Selection.
Click Register for Classes.
Select a Study Period (e.g. Trimester 1 HE 2021) and course (e.g Bachelor of Health Science)
Available options will be displayed in the drop-down menu.
In the 'Summary' pane in the bottom right of the screen, classes will be listed.
In the 'Action' column, use the drop-down box to select 'DROP' against the desired class.
Click Submit.
A 'Save Successful' notification will pop up. The status of the dropped subject will now say 'Deleted'
You can then select another subject or class time from the list on the left-hand side & press Submit again.
Troubleshooting
DROP option does not appear
You may be trying to withdraw from the only subject you are enrolled in and will be blocked from doing so.
Student Services registered you for a class manually
You may need to refresh/clear your browser cache or open the Student Portal in an incognito browser window.
Prerequisites and co-requisites
Some subjects may have prerequisites (subject to be completed before another subject) or co-requisites (subject to be done at the same time as another). These have been built in to your subject selection to ensure you are following the correct course progression.
You can check a subject pre/co-requisite by clicking on the subject name in the Register for classes screen
If you would like to apply to have a pre/co-requisite waived, please email your student services team.
What happens if a class is full?
If your preferred class is full, you will need to select another class with remaining spaces.
Enrol early to secure your place in your preferred class.
View class registration and timetable
Now you can check which classes you are registered in, and print your schedule.
Steps
Navigate to the Student Landing Page.
Click Subject Selection.
Click View Registration Information.
Review your schedule.
You can also print your timetable by clicking on the Printer button (in the top right hand corner).
​​​​​​
---